Buteyko Method - Breathing therapy
Just as with too much food consumption, one can breath too much.
Excessive breathing causes physical problems; it is known since 1904 that needy cells do not get sufficient oxygen; the Bohr Effect. All doctors know that normal breathing is about 5 liters of air per minute. How can it be that doctors do not pay attention to the amount of breathing and health.
How much do you breath?
IMPROVING YOUR HEALTH STARTS WITH PAYING ATTENTION TO YOUR BREATH !
(free tip: start breathing through your nose and feel the tongue is against your pallet)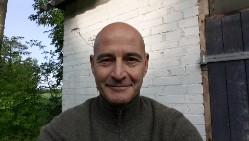 Net als bij te veel eten, kan men ook te veel ademen.
Alle doktoren leren dat een normale ademhaling rond de 5 liter lucht per minuut is.Overmatig ademen veroorzaakt problemen. Dit is al in 1904 wetenschappelijk bewezen; de cellen en organen worden minder bediend met zuurstof, het zogenaamde Bohr Effect. Elke dokter heeft dit moeten leren. Hoe kan het dat er niet standaard wordt onderzocht hoeveel iemand ademt?
Hoeveel ademt u ?
GEZONDHEID VERBETEREN BEGINT BIJ AANDACHT VOOR DE ADEMHALING!
(gratis tip: adem door je neus en voel de tong tegen je gehemelte)